PCB's Making Machine (VPL-PCB-15)
The most boring ting to do is to make the PCB. Though now most people give the boring affairs to the PCB factory, yet it is indeed too long to wait for about three days or a week. New inspiration for a design is usually given up because of the trouble. While a PCB making machine can finish making a piece of PCB only in a few minutes, which can let your inspiration instant come true.
Main features:
1. High efficiency: It merely need a few minutes to make a piece of PCB.
2. Accuracy: The min error of numerical control drill hole
3. Automatism and convenience: Simple software hardware installation. Operate the manufacturing process by  striking the function keys of operation system.
Specifications:
Travels: X-200mm * Y-150mm * Z-60mm
Table size: 250mm * 310mm
Maximum Thickness of Material: 60mm
Leadscrews: M10 * Pitch=1.5mm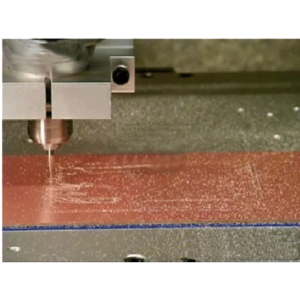 Nuts: Anti-Backlash Nuts on all axis
Material: Constructed of aluminum alloy (ANODIZING)
It has coolant system with removable collector.
The system installed in a metallic enclosure with 6′ height, open able front door, acrylic front and side cover and adjustable display panel.
It has mechanical storage system on the bottom for Computer system, Controller, UPS and for Electrical wiring.
The system supplied with PC with Intel Pentium-IV CPU @ 2.4 GHz, 512MB RAM, 52X DVD Writer, Optical Mouse,  15/17/19" TFT Monitor & Keyboard.
PCB plate making machine
High efficiency, high precision, small volume, simple operation, It is widely used in junior college, scientific research
organization, arms-industry, electron fan, electron factory.
Product advantage: Advanced: Anti-corrosion PCB making process, the plate making and drill process can   finished in one machine.
High efficiency: A piece of usual PCB can  made in a few minutes.
Accuracy : The error less than 2mil
Convenience: Simple software hardware installation. You can choose operate the manufacturing process by striking the function keys of operation system.
Install the CAM Software into machine drive program—NC, plate making, drill, edge, total numerical control  operation, one-time shaping. With the control of computer software, the drive motor of X, Y, Z-axes begin to work accordingly and the main shaft motor can be drove according to program order. The main shaping motor drives the cutter to process the workpiece that the user requires. The technology of Computer Control adopts the physical engraving technique. The made plate don't pass the process from wet to dry and the process from cold to hot. Mechanical motion can  executed strictly according to order. The situation of conglutination and dark cracks can  discerned in naked eye but not with magnifying glass. Moreover, the software can be operated simply.
Please contact us to get more information about PCB automatic
plate making machine.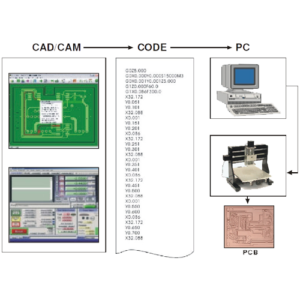 ---
Note: Specifications can be changed, added or subtracted without notice in our constant efforts for improvement.