Signal Generator/Spectrum Analyzer (140MHz-4.0GHz) (VPL-SG-44)
Description
140MHz-4.0GHz simple signal generator, simple spectrum analyzer can be used for wideband signal generator, wideband sweep generator, simple spectrum analyzer. With noise source for tracking, generator can test parameters of filters, antennas, etc., and the equipment is so simple to carry. These devices were createdfor amateur radio enthusiasts to tune their antennas. It functions as signal generator as well as spectrum analyzer. This can be used to see the whole frequency range from 140 MHz to 4.0 GHz which is ideal to check on CATV, SAT, LTE etc.
"IN" is spectrum analyzer input, "OUT" is signal generator output, "PWR" is power inductor .When it power up, the PWR LED will begin to flashing and then constantly on . If PLL unlock the LED will be flashing all time (except for  output 0Hz).
Features
Input/output range: 140MHz-4.0GHz
Signal generator output intensity:-3dBm@500MHz
Spectrum analyzer MAX liner input amplifiler:-5dBm
Signal generator step: 1kHz min
Input signal step: 1kHz min
USB power supply
Sweep function in output
Components
Main equipment 1 Pc.
USB Cable 1 Pc.
Disc 1 Pc.
SMA Line 2 Pc.
Specification
Input/output frequency range: 140MHz-4.0GHz
Input/output frequency step: 1 kHz
Output intensity: -3dBm@0.5GHz
Spectrum analyzer dynamic range: 75 dB
Bandwidth: 250 kHz * 2
Frequency stable: 3ppm/year
Size: L*W*H=120*65*25mm
Weight: 250g
Temp: 0° to +45°
There is included a software in CD.
Software features
Sweep Mode setup selectable from 140MHz to 4.0GHz.
Step size selectable
Samples selectable
Single/Continuous Mode
Output Graph selectable from -120 dbm to 30dBm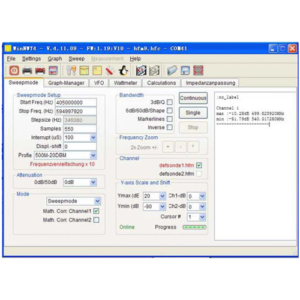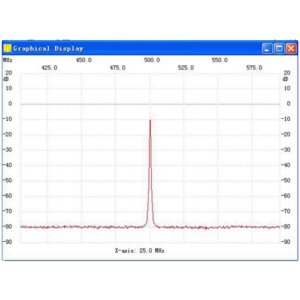 Single test, 0.5GHz @ -10dBm curve
Note: Laptop shown in the image is not part of supply.
---
Note: Specifications can be changed, added or subtracted without notice in our constant efforts for improvement.